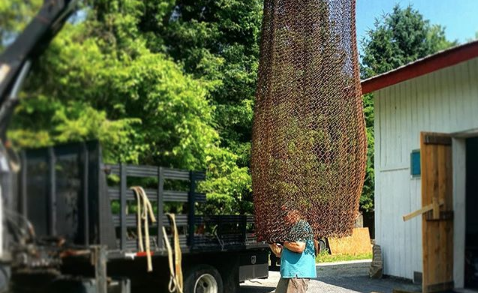 About
The Welding Bay at SAW is located in the center of the grounds. SAW's welding studio is available to artists working with metal. Artists have 24 hour access to the studio. SAW's welding studio comfortably fits several artists working on a large scale at a time. Please see below what equipment is offered in the studio.
STUDIO CAPABILITIES AND EQUIPMENT
Studio Equipment
Chop saw
Drill press
Metal roller
Bending brake
Bench grinder
Air compressor
Finishing tools
Horizontal band saw
Plasma cutter
TIG & Arc welders
Workshops and Classes
SAWs shop offers workshops for artists of all levels. Click "workshops" for more information about our workshops, or click here for our workshop calendar.
Studio Rental
Rental Fee
Individual work stations are available to rent at the rate of $30 per 4 hour session includes basic use of studio equipment i.e. welders, plasma cutter, torch, chop saw, grinder etc.
Artists are responsible for cost of assistance, instruction, and personal materials.
Assistance Fee
$25 per hour for one-on-one assistance
$50 per hour for one-on-one instruction
Materials
Artists must provide their own materials.